12V DC to 19V DC Power Adapter.
This DC power adapter can be used on vehicles with standard cigarette lighters (such as cars and boats) to provide continuous power to your laptop/notebook computers and recharge your batteries.
Input:
If you want to use this adapter with other power source and needs barrel connector on input side instead of car cigarette plug, you may use it together with our car cigarette adapters. If you need wires connection on input side, you may just simply cut the input side cigarette plug.
Technical Specification
Input voltage: 12V (Typical)
Input voltage range: 11.5V ~ 15V

Output Voltage: 19V (Typical)
Output voltage range: DC 18.8V ~ 19.5V (No load), DC 18.4V ~ 19.3V (with load)
Output current range: 0~6.3A, Maximum 6.3A
Output power: 0~ 120W, Maximum 120W
Efficiency: 80~ 90% ( with full load)
Working Temperature: 0℃ ~ 40℃ ( 32 F ~ 104 F)
Environment Humidity" 20%-85%


Weight: 0.7 lb (321g)
Dimension: 4.8" x 2.4" x 1.2" ( 123mm x 61.4mm x 30.5mm)

Protection
Over voltage protection
Internal overheating protection
Input internal fuse protection
Current limit protection
Output Short circuit protection
Open circuit protection


Color - black


This power adapter has a standard 5.5mm x 2.5mm connector like this: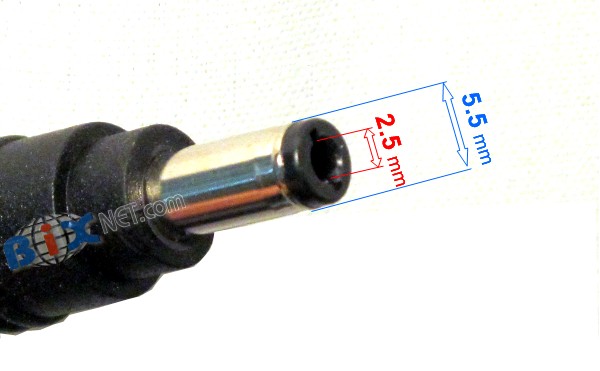 If the standard 5.5 x 2.5mm connector on the Power Adapter does not fit your device, you can order our optional extra connector tips: from C1 to C26

Optional Extra Connector Tips:
(Click on each tip image to see details for each tip)


Extra connector tips are optional, not included.



If the standard connector on this power adapter does not fit your laptop, you can order the optional connector tip to convert the standard connector to a connector that will fit your laptop like this:








After select right connector tip, plug it to the output cord of the adapter, now you are ready to use it .


Overall Rating for
12V DC to 19V DC Power Converter