BX550 is a 5V external battery with maximum 3A high current output ability.
Its size is as small as a novel that it will never be too bulky and heavy to take along. With the user-friendly and simple design. This battery can provide extra long runnig time for iPad, cell phones, wireless routers, GPS and many other devices that require 5V power.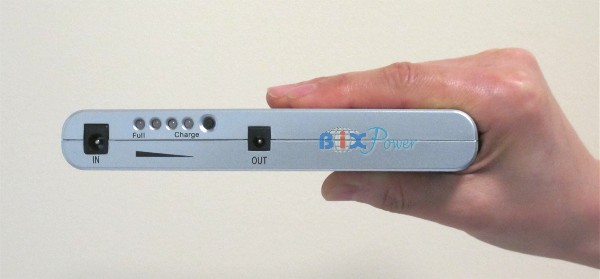 Features:
It has 5V output voltage
It has 49 Watt-hour ( or 13500 mAh) large capacity
It can output maximum 3
amps
electric current

*



It can be recharged about 500 times.

It has its own AC charger
It comes with 4 different DC connectors for different devices.



*

This battery has 5V constant output voltage, but variable output current. 3A is just the maximum output current this battery can supply. Actual output current will be variable depends on the devices it powered. If the output of a power supply is maintained at a constant voltage, then the load's resistance determines the output current. It is Ohm's Law. So it will be no problem to use this battery to power any device that requires 5V voltage less than 3A current.



How long can this external battery run ?



This battery's capacity is

49Wh

(Watt-hour). For your reference, a Alkaline AA battery capacity is around 2Wh ~ 3Wh
Saving:
Fully charged BX550 capacity is 49Wh. Since this battery can be charged about 500 times, so
one
BX550 battery can provides total up to 25000Wh power, equivalent to
8000 ~ 10,000
AA Alkaline batteries.
Technical Specifications
Model:
BX550
Colors:
Silver
Chemistry:
Li-ion
Input for charging

12V
Output Voltage:
5V
Output Current:
Max. 3A
Charging time:
4-5 hours
Size:
152.90 x 93.10 x 23.10 mm ( or 6" x 3.7" x 0.9")

Weight:
418g ( or 0.92lb)

Power Indicator:
4 level LED display
Built-in Protection Circuit:
- Over- charge
- Over- discharge
- Over current
- Short circuit protection
Included in Standard Package:
- Battery x 1 pc
- AC Adapter x 1pc
- DC Car Adapter x 1pc
- Power Cable x 1pc
- Plug Tip x 4 pcs
How to use this battery:
Part I. Charge the Battery
Step 1

Charging with the supplied AC adapter connected to the battery input DC jack.

Step 2

During charging process, a LED light glows in red.

Reminder:
The battery might become warm while charging.

Step 3

When battery is fully charged, the LED light will turn green.

Reminder:
Unplug the USB cable / adapter ASAP once the battery is fully charged.
Part II. Power Status
Different lighting condition of the LED display shows respective current power level of the battery:
| | |
| --- | --- |
| | |
| | |
| | |
| | |
| | |
Reminder: Do not exhaust the battery. Recharge before power is completely consumed.
Part III. Use the Battery
1. Make sure the Polarity* is correct and connect one end of output power cable to the battery output port, another end to your device.
2. If the output cable end does not fit your device, select one of the provided connector tip that can snugly plug into the DC jack of your device, then plug the chosen tip to the supplied power output cable.

When the battery and your device are connected with each other, it begins to provide power.

Reminder: Please fully charge the battery prior to the first use.

Polarity


The default battery output cable and connectors are configured as positive polarity, which meet the needs of most of devices. Please make sure your device polarity is positive, if not, you can not use this battery.
Positive polarity means inside the connector is positive, outside the connector is ground.

It is CRITICAL that you determine the correct polarity needed for your device before using the battery. FAILURE TO DO SO MAY RESULT IN SEVERE DAMAGE TO YOUR PRODUCT!

If your device needs negative polarity, you can not use this battery.

To determine the correct polarity for your device, inspect the DC adapter jack or the label of your product thoroughly for information about the products polarity. There will be a symbol with a plus sign on one side and a minus sign on the other with a circle between them. The circle will have an opening so that it looks like a "C". If the opening of the circle is on the side with the plus sign the polarity is positive. If the opening is on the side with minus sign the polarity is negative. If you cannot find a polarity sign on your product you need to call the product's manufacturer to find out what the polarity is.

Part IV. Safety Cautions
1. Do not subject the battery to extreme pressure.
2. Do not over charge the battery to avoid shortening of battery life.
3. Do not immerse in water.
4. Do not attempt to open or break apart the battery pack.
5. Do not throw the battery in fire or attempt to burn it.
6. Keep the battery away from excessively dry or humid environments.
7. Do not use the battery if it has been subjected to shock or damage; take it to qualified technician for inspection and repair.
Package Included:
1 x Battery
1 x AC Charger
1 x Car Charger
1 x Output Cable
4 x Connectors




Connectors:





Optional Accessories:

1. Optional USB Port:

You can convert the BX550 battery output port to a USB port by using the optional USB Port Connector for BX550 Battery like this:



USB adapter connector not included with the battery, need to purchase separately.



2. Optional Solar Power Panel:

You can charge this battery with our optional solar power panel :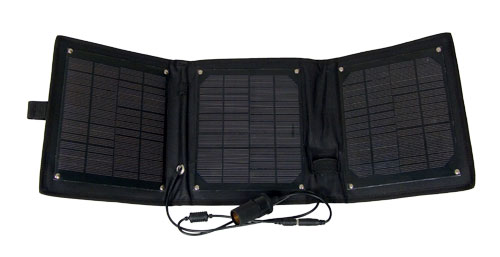 Solar power panel is optional, not included.



3. Optional Connector Tip for iPad:

You can use this battery to charge and power iPad/iPhone with our optional connector tip M1 .



M1 connector tip is optional, not included.
Overall Rating for
5V High Capacity ( 13600mAh) Rechargeable External Battery Pack - BX550