USB A Female to 5.5mm x 2.5mm Barrel Connector Power Cable.
This power cable one end is a USB Type A female connector, another end is a male barrel connector, with 5.5mm outside diameter and 2.5mm insider diameter. It can convert a USB A Male power connector to 5.5x2.5mm male connector, or convert a 5.5x2.5mm female power jack to USB A female connector.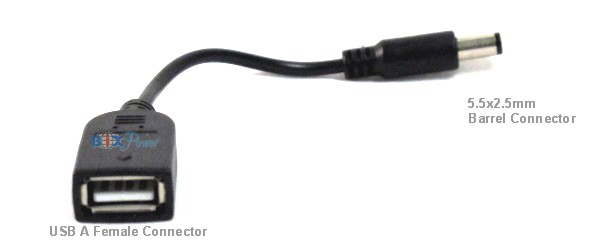 Caution:
This USB power cable is just a cable, it
does not
have any electronic circuit inside to control electronic voltage/current/polarity. Please make sure the power source output is set correctly for your device.
This USB power cable can provide a USB power output port for our
PM85 series batteries
like this:
Caution:
When use the USB adapter cable with our PM85 series batteries, please set the battery 5V/8.4V output port switch to 5V, connect the USB adapter cable to the 5V/8.4V port output cable, then plug the output cable to 5V/8.4V port .
Do not
directly connect the USB adapter cable to the battery output port.
The 5.5mm x 2.5mm barrel connector can be converted to different size connector with optional connector tips CNT-C1 ~ CNT-C26
*Connector tip is optional, not included.